How Long Do Aluminium Windows Last?
At Fox Windows & Doors, we focus on providing exceptional home improvements to homeowners in Warwickshire and its nearby areas. We strongly believe that a successful home improvement project starts with homeowners who are well-informed about the various choices and options available for their homes. Considering this, you might wonder about the lifespan of aluminium windows, and whether they'd be a good fit for your property. 
Aluminium windows have gained immense popularity in recent years. Renowned for their durability, sleek aesthetics, and energy efficiency, aluminium windows offer a reliable and stylish solution for homeowners. With their lightweight yet robust construction, these windows provide enhanced security, noise reduction, and weatherproofing for homeowners across the globe! But, would they be a good fit for your property? Let's find out together. 
The Benefits of Aluminium Windows
Aluminium windows offer numerous advantages that make them a popular choice among homeowners. For example, they're exceptionally durable! Aluminium windows are resistant to rust, corrosion, and rotting, making them ideal for homeowners everywhere. When compared to older timber designs, aluminium is a cut above the rest- not falling victim to the common peeling and cracking problems of timber. They are also stylish, often coming with powder coatings that provide style and colour to any build, without the need for hefty maintenance or repainting over the years.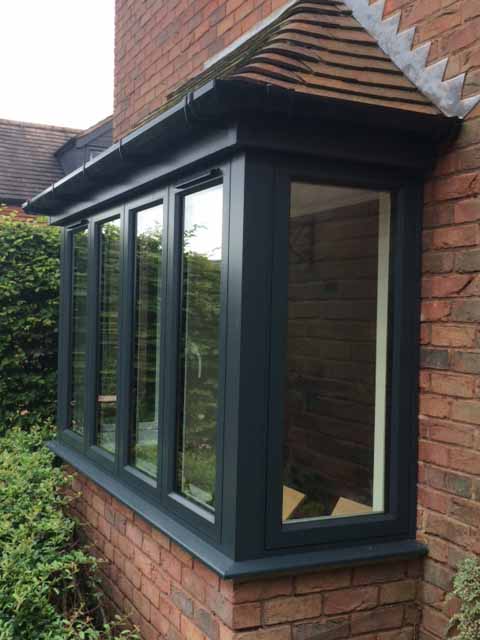 Aluminium windows are known for their excellent energy efficiency, helping to reduce heating and cooling costs by minimising heat transfer. Aluminium is lightweight, yet strong- with strength that allows for larger window sizes and expansive views without compromising structural integrity. This makes it perfect for bigger projects with elaborate construction needs. 
Aluminium windows are also low maintenance, requiring minimal upkeep over the years. They offer a sleek and modern aesthetic, with a variety of finishes and colours available to complement any architectural style. These windows are often available in powder coated or woodgrain finishes, helping to preserve traditional aesthetics within modern framing materials- so your windows don't just look good, they perform well while doing it!
Wanting to think green? Aluminium is great for this aspect too. Aluminium is a highly sustainable material that can be recycled, making aluminium windows an environmentally friendly choice. If you're looking for windows that can be recycled at the end of their lifespan to create something new, aluminium is the perfect choice for any green-thinking homeowner. 
How Long Do Aluminium Windows Last?
Aluminium windows are built to last through even the harshest of weather conditions, standing strong for years to come. Whether it's scorching heat, heavy rains, or strong winds, aluminium windows are designed to stand strong against the elements. The inherent weather-resistant properties of aluminium, coupled with advanced coating technologies, provide an added layer of protection, ensuring that your windows stand tall whatever the weather. 
Aluminium is also incredibly resistant to decay over time. One of the key reasons for their longevity is the inherent durability of aluminium itself. Unlike other materials, aluminium windows are resistant to rust, corrosion, and rotting, making them highly suitable for a wide range of climates and weather conditions. This remarkable resilience ensures that your windows remain intact and functional for many years to come.
Nobody wants to spend hours on window maintenance, and that's where aluminium windows truly shine. They require minimal upkeep, making them a hassle-free option for homeowners. Unlike other materials, aluminium doesn't warp, fade, or need frequent repainting. A simple routine clean is usually enough to keep them looking and functioning like new. 
Aluminium windows are designed to last for a long time, both when it comes to durability and to maintenance. If you're looking for a home improvement solution that truly stands the test of time, aluminium windows may be perfect for your property.
Contact Fox Windows and Doors Today!
Are you excited to explore the endless possibilities that aluminium windows can bring to your property? Your search ends here at Fox Windows & Doors. As the trusted supplier of top-quality aluminium windows in Warwickshire and the surrounding regions, we are dedicated to ensuring you get top notch aluminium windows for your home. 
If this article has convinced you that aluminium windows are the perfect fit for your home, we would be happy to help. Reach out to us today through our user-friendly online form or by calling us on 01926 754044. Take advantage of our free quote estimates too, that are available through our online quoting engine. We look forward to hearing from you!
Categories: Fox Windows & Doors, Windows
Tags: Double Glazing, Energy Saving, Home Improvement, Money Saving