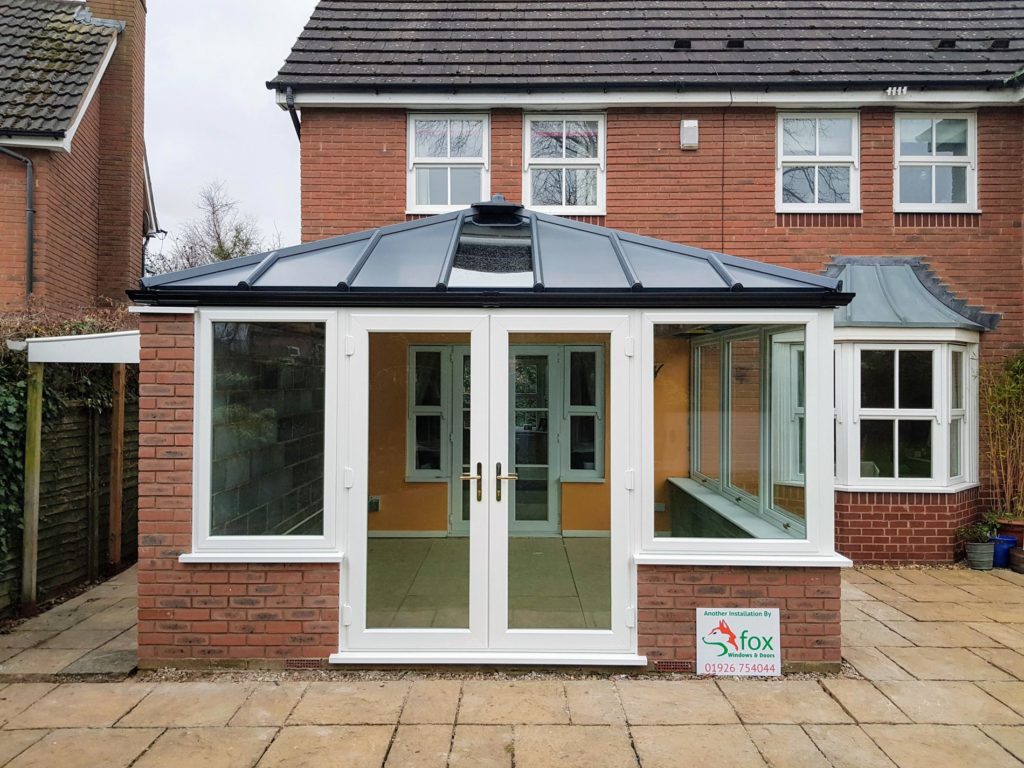 Mr and Mrs Simmons are really pleased with their conservatory upgrade. Opting for a solid roof conservatory refurbishment, and they are over the moon with the final result.
Altering their conservatory quite a bit, we transformed a traditional lean-to conservatory with increased brickwork and new windows to let in an increased level of light.
Product:
Location:
Brand:
Conservatory Refurbishment
Kenilworth
Ultraframe
Conservatory Refurbishment Fitted in Kenilworth
Our clients, Mr and Mrs Simmons, were looking for a conservatory refurbishment to suit the style of their existing property. Opting for a solid roof conservatory design to extend their living space, creating a room that's lighter and brighter for use all year round.
Listening to our client's requests, we designed an asymmetrical glass panelled roof section. Typically, clients choose to have these glass sections symmetrical, however, Mr and Mrs Simmons were not bothered about this at all. Choosing to orientate their glass sections to suit their home.
One section of their conservatory refurbishment had glass on the west facing side, 3 glass sections on the south facing aside and no glass on the north facing side. Having listened to their requirements, our clients are really pleased with their conservatory upgrade.

Benefits of Solid Roof Conservatories
Lightweight
Designed using lightweight panels to create the most lightweight solid roof in the market. Due to its lightweight profile, our solid roof can be used to replace any existing conservatory roof. Give your home the wow factor with the versatile and light features that come with our solid conservatory.
Thermally Insulated
Our solid roof conservatories offer unrivalled thermal performance for your Kenilworth homes. Built with solid timber core, our conservatory exceeds industry standards of thermal efficiency. Help to keep your conservatory extension warm all year round by choosing to replace your existing conservatory.
Brighter Home
Control the level of natural light in your home with Ultraframe's solid roof conservatory. This conservatory-style enables you to focus the light where you require it in your room through its glazing. Shape your glazing for a more bespoke conservatory design.
Safer Home
With their super strong profile, our conservatory fitted by Fox Windows and Doors will improve the security and safety of your home. Our conservatory has been tested to withstand hurricane winds up to 130mph. Our conservatories are extensively fire tested to ensure your home and family are protected if the unthinkable should happen.

Benefits of a Conservatory Refurbishment
Improve Sound Insulation
When comparing the sound of the British rain on your glass conservatory with a solid conservatory, there is a clear difference in the level of sound. The insulation used with solid roof conservatories can provide your home with the all needed level of protection from exterior noises.
All Year Round
A conservatory refurbishment with a solid roof can provide you with additional space in your home that you can use all year round. Due to its thermally efficient, weather resistant roof, whether you are looking to browse over your snowcapped garden in the winter or view the sun setting behind your garden at night, you can do so.
Reduce Energy Bills
A glass or polycarbonate conservatory can cause significant heat loss when compared with a solid or brick conservatory alternative. When upgrading your conservatory to a brick, more solid conservatory design, you will notice an increase in the level of retained heat in your home. In turn, you will see a clear improvement in the reduction of your energy bills.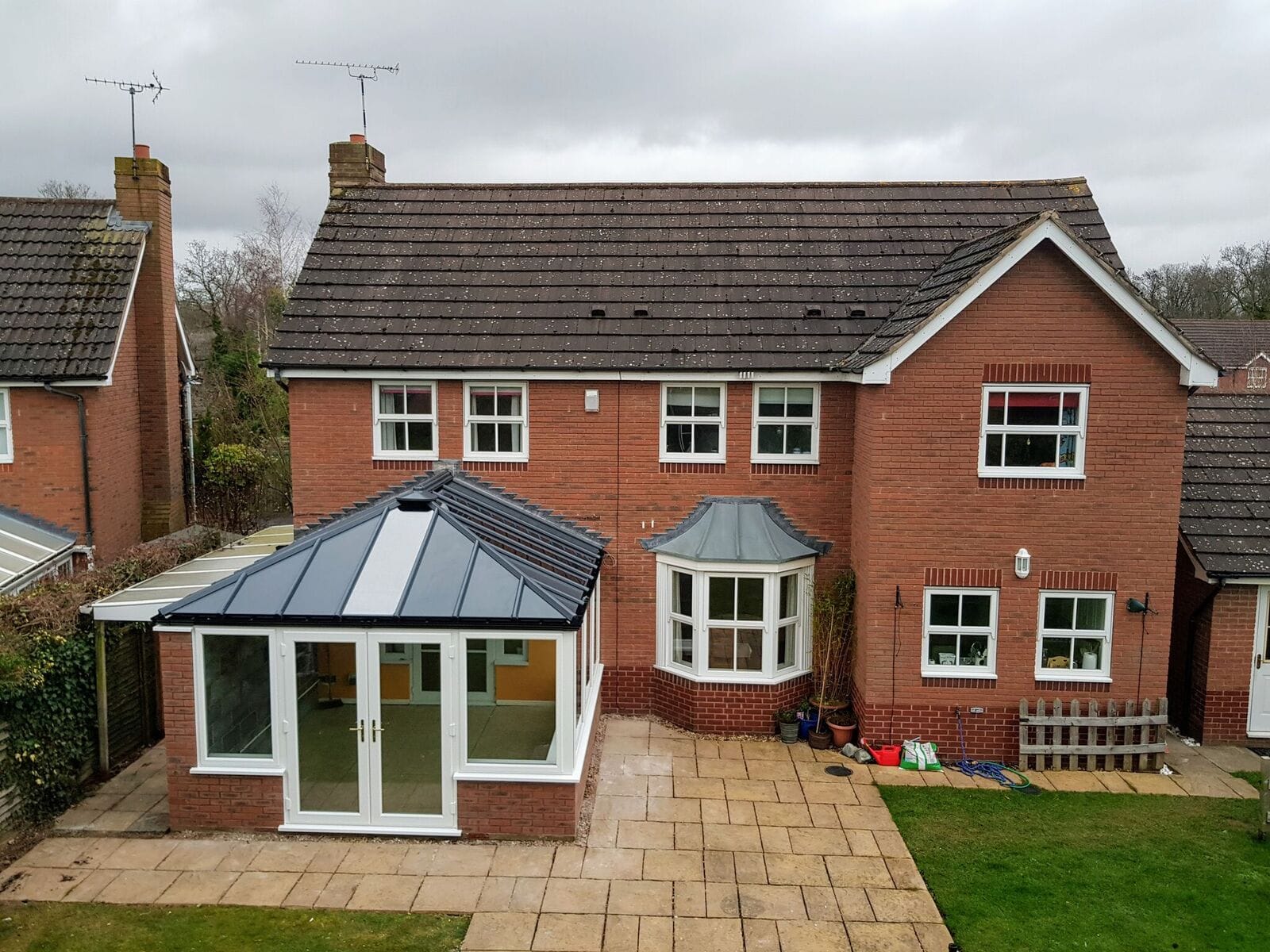 Conservatory Refurbishment Prices in Kenilworth
Our clients are over the moon with the outcome of their conservatory refurbishment. Perfectly matching their exact requirements. If you have any questions regarding our conservatory refurbishments and would like to know how much a refurbishment like this would cost, then contact Fox Windows and Doors today. Alternatively, if you like this conservatory style and are looking for further inspiration, why not continue browsing through the below gallery to see more?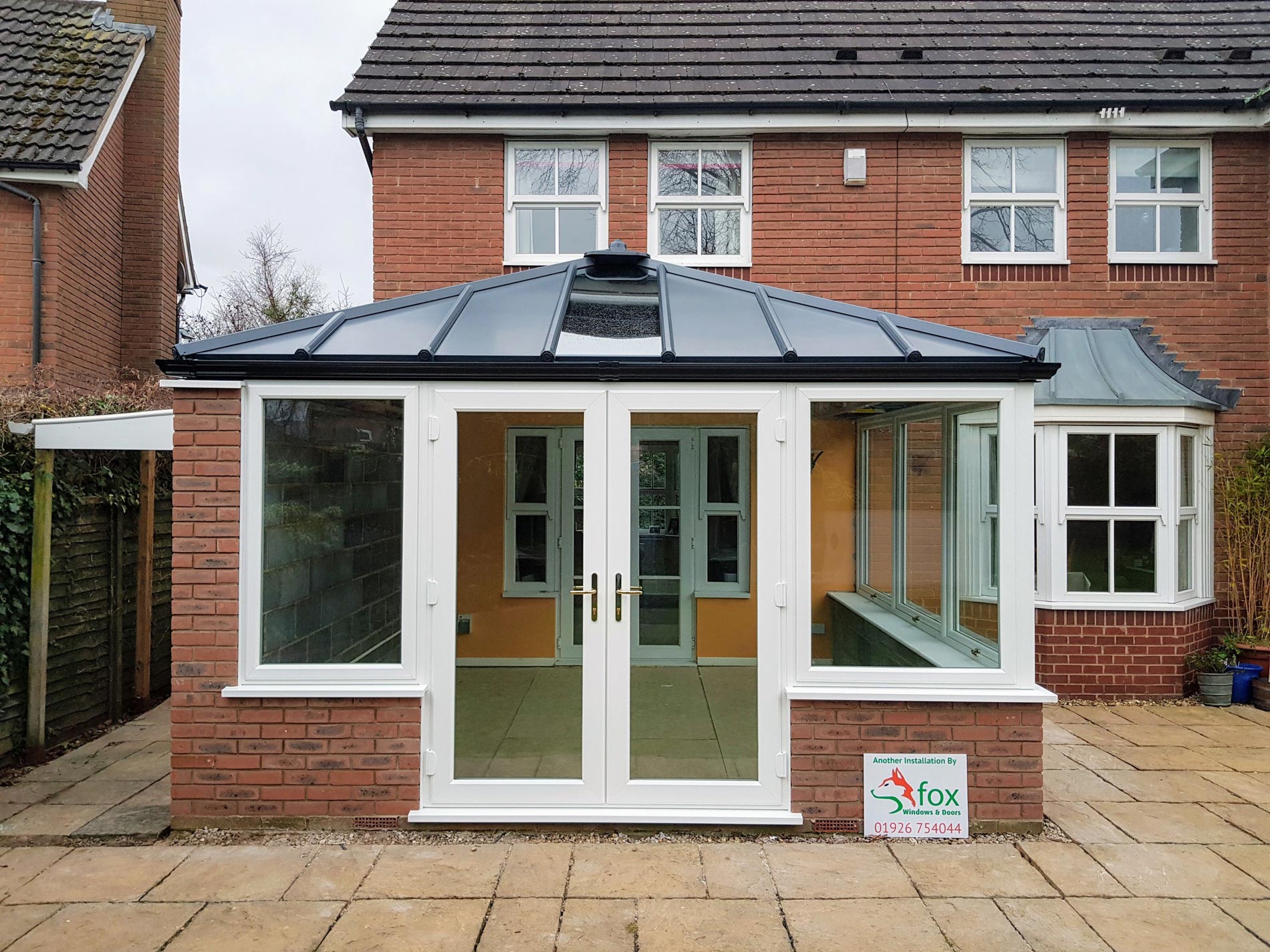 Click on an image to enlarge