The Benefits of Aluminium Sliding Doors
Sliding Doors offer numerous benefits that make them a popular choice in various settings, including residential, commercial, and industrial spaces. Here are some of the advantages of the uPVC or aluminium sliding doors that we, as Fox Windows offer:
An efficient use of Space: Sliding doors are an excellent choice when the space within your property is limited, as they do not take up any floor space when opening or closing them. Bifold doors fold in a concertina-like manner, which means that you will need to consider where the doors "stack". (Normally outside). With sliding doors, you do not have to think about where the doors must stack!
Unobstructed Views: These doors typically feature large glass panels, providing expansive views of your garden or the surrounding area to the property. Our aluminium range of sliding doors can typically span a maximum of 2000mm (2 metres) per door, with upvc sliding options available in maximum widths of 1400-1500mm (1.4 – 1.5 metres) per door.
Bringing the outside in: Sliding doors are frequently used as patio or balcony doors, allowing for a seamless transition between indoor and outdoor spaces. When fully opened, they create a wide opening, connecting the interior and exterior areas and expanding your living space. This is relevant during summer months, and when hosting a party with many people. With properties with extra headroom, we can also offer aluminium options with a height of up to 3 metres!
Air flow: Sliding doors can be opened partially to allow for controlled ventilation. However, the opening is generally limited to the width of either one or two doors. This will normally give ample air circulation, but not as much as a bifold door which can be opened to fully open the whole aperture of the building.
Ease of Use: All our Sliding door options are easy to operate, with smooth gliding mechanisms. They require minimal effort to open and close, even for larger or heavier doors. This is down to the quality of the components, such as stainless steel rollers, and the way the sliding doors are manufactured. All our upvc sliding doors and aluminium sliding doors are manufactured in the UK to the highest quality standards.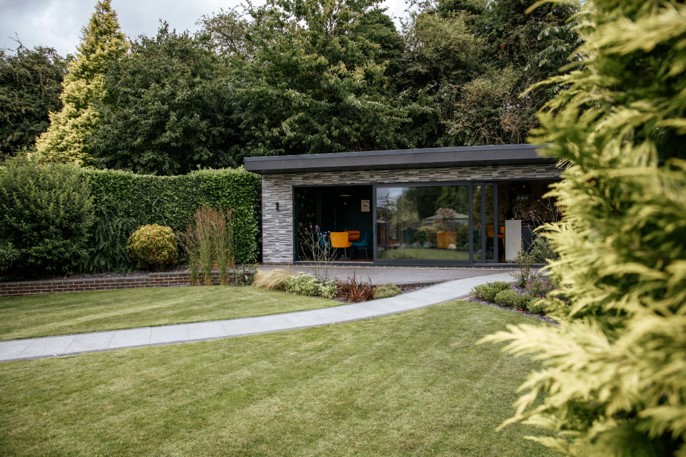 Improved Access: Sliding doors can help provide improved accessibility, especially for those with disabilities or those using mobility aids such as wheelchairs or walkers. Fox Windows offer a range of threshold options, including low profile mobility thresholds which allows for easy entry and exit. We can work with our own building teams, or your choice of builder to also ensure a flush finish either with the floor level internally and / or externally. Customers can visit our showroom in Stoneleigh Park, between Leamington Spa and Kenilworth, to see examples of this.
Slimmer Aesthetics: Sliding doors have changed over the years with more sleek and modern designs coming in vogue. For example, our Origin aluminium sliding doors can come with just a 20mm aluminium sightline between doors. Larger glass panes can make the space appear more open and spacious, while the minimalist frames contribute to a clean and contemporary look. Our sliding door options are available in a multitude of RAL colours and textures to match your individual preferences.
Energy Efficiency: Our energy efficient sliding doors can come with double glazed, or for lower u-values and greater thermal efficiency, triple glazed or with CUIN glazing. Speak with one of our technical experts to understand how we can tailor your doors to your exact requirements.
Sound Insulation: We can include acoustic laminated glazing into our Sliding door options to minimise noise transmission. This is particularly beneficial near busy streets or airports; allowing for a quieter and more peaceful indoor environment.
Increased Security: Our inline sliding doors include multipoint high security locking, 3* locking cylinders, and when security laminated glass is included, is PAS24 certified for ultimate burglar deterrent. Please see our guide to PAS24 and Secured by Design for more details.
In summary, inline sliding doors offer numerous advantages, as detailed above, and make them a versatile and practical choice for a wide range of applications.
The Benefits of Aluminium Bifold Doors
Alternatively, how about considering an Aluminium Bifold Door, with numerous benefits as follows:
The Widest Opening: Bi-folding doors consist of multiple panels that fold and stack neatly to one or both sides, creating a wide opening. This design allows for maximum access to the outdoors and seamless integration between indoor and outdoor spaces. Our aluminium bifold door options come with door sashes at a maximum of 1200mm (1.2 metres) and a maximum height of 2376mm.
Flexibility: Bifold doors offer versatile opening configurations. You can partially open them to allow ventilation while maintaining some privacy or fully open them to create a wide opening that seamlessly connects indoor and outdoor spaces. This flexibility allows you to adapt the door to your specific needs, whether you want to create a large entertainment area or merge two areas. You can also choose to have all doors stacking one way, or with a choice of doors stacking one side and some the other side.
Contemporary or Heritage Aesthetics: Given the plethora of options available from Fox, the style of bi-folding doors you choose, can impact on the aesthetics. For example, we can include 20mm astragal bars to a set of Jet Black or Anthracite Grey bi-folding doors to replicate a period slim steel look aesthetic, as well as more contemporary options with colour matched handles and hardware.
Minimal Maintenance: As Bifold doors have more moving parts compared to sliding doors, we only offer aluminium bifolding doors, as opposed to sliding doors where we also offer upvc options. A clean down with warm soapy water and the odd spray of WD40 will help keen everything in working order. All of our product comes with an insurance backed guarantee of a minimal of 10 years..
Natural light and improved views: Bifold doors typically feature large glass sections that maximize the amount of natural light entering your home, with sightlines between doors as low as 110mm. Although sliding doors offer narrower sightlines between doors, when fully opened, they create an expansive opening, providing unobstructed views of the outside environment.
Ease of Access: With the help of our full technical surveying service, we can design your bi-folding doors so that they are flush with the internal and/or external floor levels. We can also widen the size of the doors so that we can meet Document Part M of the building regulations – "Access to and use of buildings" if so required. Many clients of ours choose bi-folding doors as they like using the single "master" door of the bi-folding doors as the main access in and out of the rear of the property. Let's face it, we live in the UK, so most of the year this will be the only door utilised!
Use of single master door: Some clients simply prefer to use the master door of the bifolds, rather than sliding a door for the main access in and out of, ordinarily, the side or rear of the property.
Increased property value: With the right "flow" between internal and external living areas, installing bifold doors can add significant value to your property; given the wow factor that they can bring to the property.
Ultimately, your decision should be based on your specific requirements. At Fox Windows, our technical experts are on hand to discuss and advise the factors discussed above, and how this can fit in with your budget and what you are aiming to achieve.
Sliding Doors and Bifold Door Prices, Warwickshire
If you would like to know about how much our Origin sliding doors cost, then get in touch with our team today. We offer an incredible collection of new triple track sliding doors that have been designed to combine modern design with exceptional performance.
Test out our online quote engine, and you can get a personalised price based on your project requirements. If you would prefer to speak with a member of our team, then you can also give us a call on 01926 754044 or fill in our online contact form.
Categories: Aluminium Bi-fold Doors, Aluminium Sliding Doors, Fox Windows & Doors
Tags: Aluminium Doors, New Triple Track Sliding Doors, Sliding Doors