Fox's range of replacement conservatory roof styles might be what your current space in Warwickshire is missing. If you have a conservatory in your home, then you might not use it as much as you'd like if it's cold or uncomfortable. Your build might have a thin roof, meaning that it doesn't protect against heat transfer. As a result, cold air can get into your space and warm air, too, thanks to the greenhouse effect.
However, modern conservatory roofs are much more durable. With glass, solid and tiled conservatory roof options available, you can install a ceiling with Fox that improves the performance of your home. You can reduce heat transfer, warming up your conservatory in the winter, and the new roof can reflect heat to cool you down in the summer months as well.
When you install replacement conservatory roofs from Fox, you'll also be adding market-leading quality to your home in Warwickshire. We install designs from Ultraframe, one of the industry's best. As a result, you can get an innovative roof for your home that transforms your current space. And, with full customisation, your new roof will be a unique design too.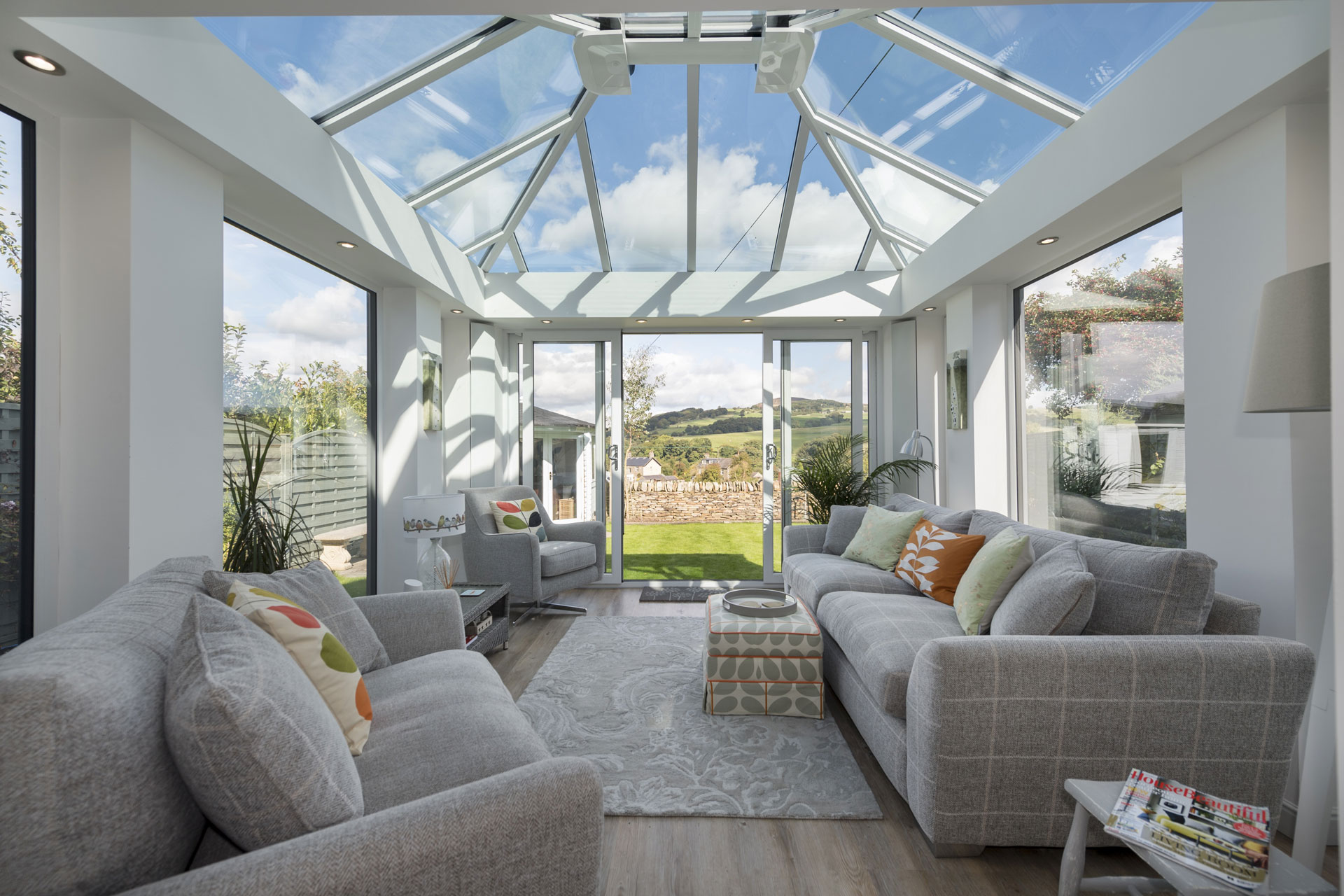 Glass Conservatory Roofs
We can offer three conservatory roof styles from Ultraframe for homes in Warwickshire. Firstly, their glass roofs can let light pour into your space without exposing your home to the cold. Instead of one layer of glass, each panel in your window will have advanced double glazing. As a result, your roof will create a thermal barrier for your home, trapping heat inside and blocking the cold outside.
With double glazing, you can also make your conservatory more comfortable to sit in. An additional pane of glass helps to reduce glare, meaning that you won't be blinded when you step inside the room during the summer. And, with size options from 24mm-35mm, you'll be in control of just how much thermal protection you get. Our glass roofs reduce the greenhouse effect to make your conservatory more comfortable all year round.
Our glass conservatory roof styles can fit onto any build in Warwickshire. Whether you have a classic Victorian, Edwardian or modern lean-to design, our roofs will fit made-to-measure. And, with double glazing, these roofs are the most affordable style we offer at Fox. You'll be investing in a product, then, that adds genuine value to your home.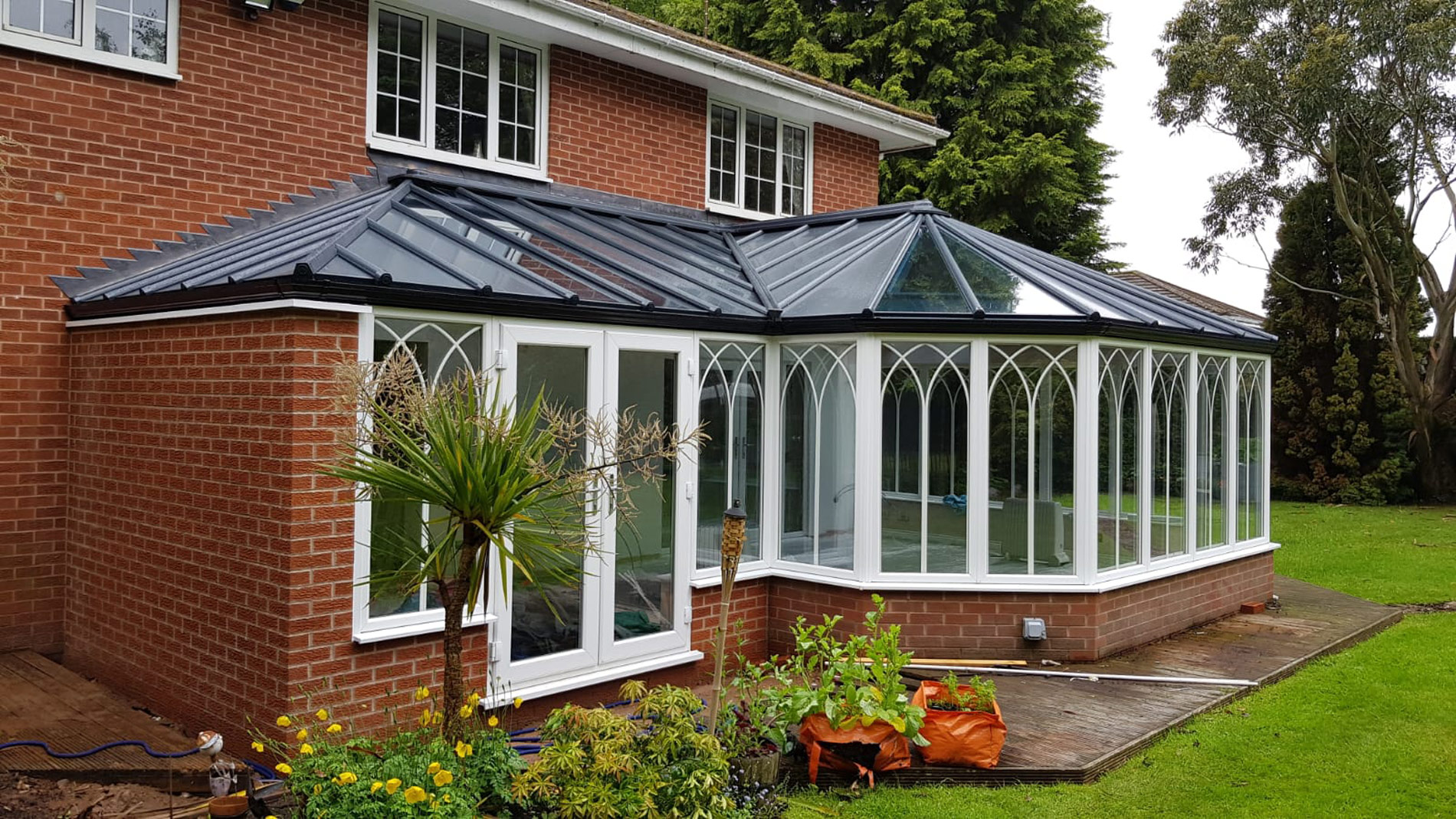 Solid Conservatory Roofs
At Fox, we supply the LivinROOF range of solid conservatory roofs from Ultraframe. LivinROOF is a solid conservatory roof system that is a cut above the competition. With a range of designs available, you can style your new roof around your home without having to lose out on performance. And, with the unique blend of partial glazing and solid materials, these roofs provide the best of both.
Solid conservatory roof styles have a mixture of slate and concrete in their design. As a result, they blend more seamlessly with the ceilings in your home, creating a more natural connection. Not only that, they can achieve leading levels of insulation. Because of this, you can enjoy a much warmer conservatory with these roof styles in Warwickshire than you could with a glass roof!
With a LivinROOF, you get total flexibility as well. You can control the design of your roof fully, meaning you can position the glazing in the precise place you need it, and you can decide how much you want. With this unique hybrid roof, you'll be able to create the conservatory of your dreams without having to tear your current space down.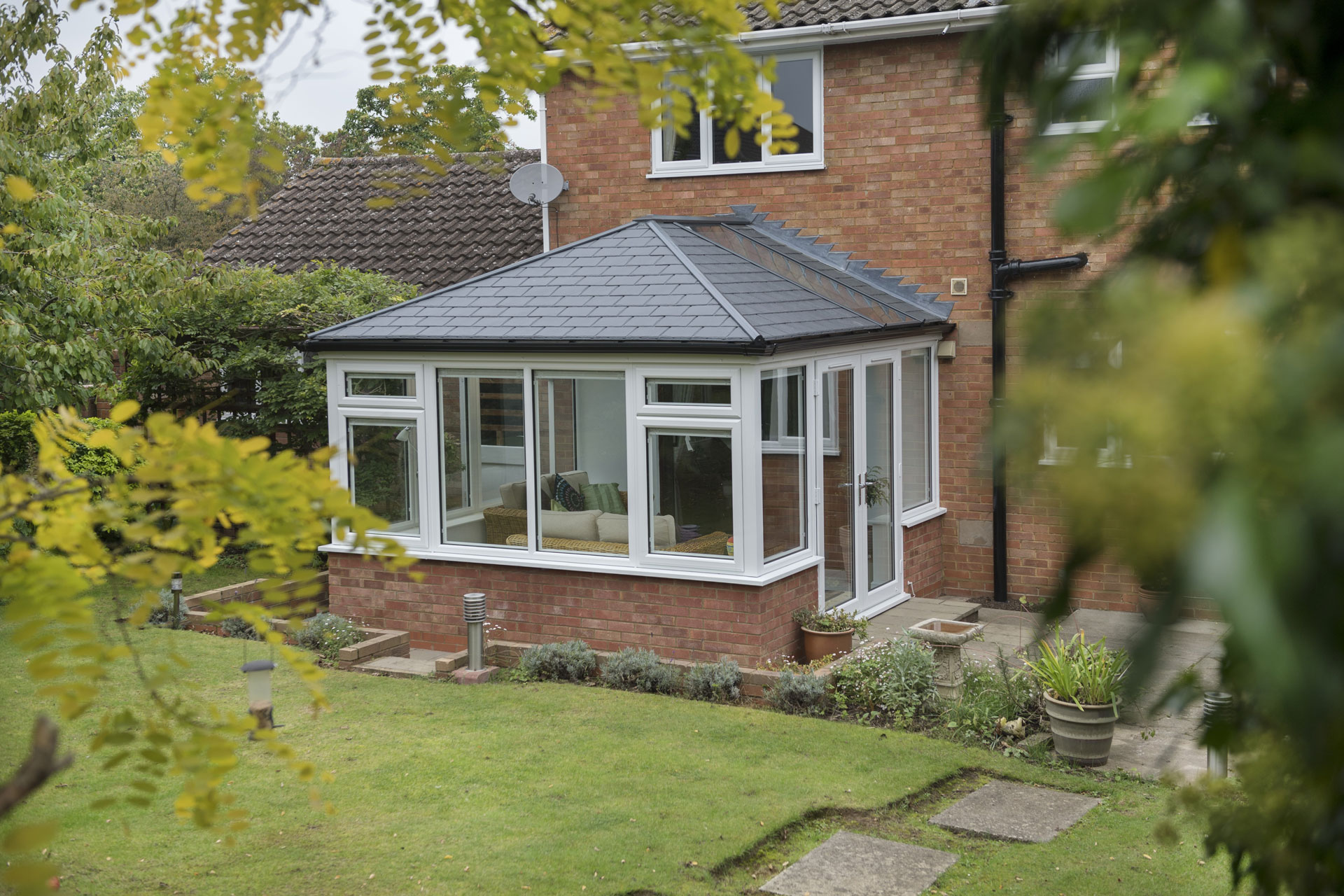 Tiled Conservatory Roofs
If you'd like conservatory roof styles that look more traditional for your Warwickshire home, though, Fox can help with that as well. We offer the Ultraroof range of tiled conservatory roofs. Sourced from Ultraframe, this roof has several lightweight, durable tiles in the design. Because of this, they fit on your conservatory seamlessly without putting any strain on the existing structure.
However, that's not all the Ultraroof does. Your Ultraroof will be fully weatherproof, with tiles that won't crack, twist, warp out of shape or even discolour. As a result, you can style your new roof with unique colours and finishes in confidence. And, with the amazing flexibility of these tiled roofs, you can style each tile individually to create unique patterns!
When you choose one of our tiled conservatory roof styles, you can also install it quickly. Ultraframe's clever designs and Fox's trained installers ensure that fitting your new roof won't take days on end. Also, our installation team can personalise their service around you. As a trusted local installer of conservatory roof styles in Warwickshire, we can offer short wait times and low prices too!
Conservatory Roof Styles Prices Warwickshire
Contact Fox today to find out more about installing our conservatory roof styles to your Warwickshire home!
You can give our friendly team a call on 01926 754 044 or fill in our online contact form to ask any questions you might have.
We look forward to hearing from you!
Categories: Conservatories
Tags: conservatory roof styles, conservatory roof styles prices, conservatory roof styles Warwickshire, conservatory roofs