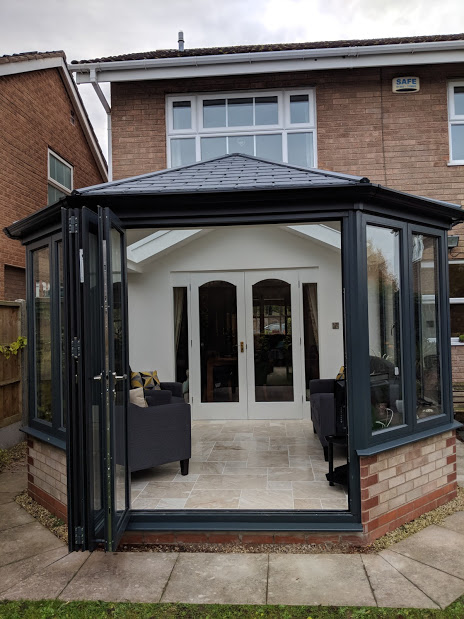 Mr & Mrs Prudohe are over the moon with their brand new conservatory conversion. Their old conservatory was rotting away and needed a modern update. We have installed the new conservatory with Origin windows and bi-folding doors, as well as the Ultraroof 380. This has transformed their outdoor living space, giving them a space they can use all year round.
Product:
Location:
Brand:
Conservatory Conversion
Bubbenhall
Ultraframe/Origin
Conservatory Conversion Fitted in Bubbenhall
Our Clients, Mr and Mrs Prudhoe, were looking to transform their existing conservatory with a modern structure. They opted for a tiled roof conservatory, providing their property with a conservatory conversion that maximised natural light allowance, creating a space that would be bright all year long.
Listening to the ideas of our clients, we designed a conservatory, with new additions to help modernise their home. Mr and Mrs Prudhoe opted for Origin windows and bi-folding doors, to open up their conservatory and allow them to enjoy unobtrusive views of their garden.
The conservatory conversion was installed using the Ultraroof 380. The tiled conservatory roof offers superior insulation with the expansive glass panels allowing more light into the room, giving the illusion of it being a bigger space. Having listened carefully to our client's requirements, they are pleased with their conservatory refurbishment.
Benefits of Tiled Roof Conservatories
Thermally Efficient
Our tiled roof conservatories offer excellent thermal performance for your Bubbenhall home. Manufactured using modern techniques and robust materials, your conservatory will be a space that you can enjoy all year long in a range of different climates and conditions.
Personalised Design
Our range of tiled conservatory roofs is available in a variety of customisable options to help match your new conservatory conversion with the theme of your Bubbenhall property. Choose from tile, colours, glazing options and insulated columns to add modern appeal to your home.
Inherently Robust
With their incredibly robust frames and, Fox Windows and Doors, bespoke tiled roof conservatories are strong enough to withstand all climates and conditions that are thrown in its way. Through torrential rain, gale force winds and heavy snow, you will be able to enjoy your conservatory conversion.
Incredible Comfort
Compared to traditionally designed conservatories, a newly converted conservatory – installed with Ultraroof will provide your Bubbenhall home with a vaulted plastered ceiling that gives you a warmer room, with the option to add lighting throughout to create a room-like atmosphere.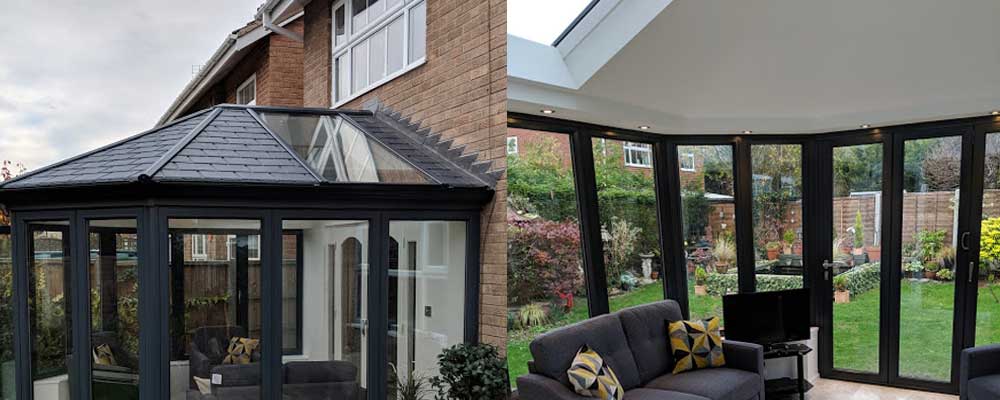 Benefits of a Conservatory Refurbishment
Cost-Effective
The superior levels of thermal performance will keep your new conservatory conversion warm all year while reducing the overall cost of your energy bills and saving you money. By opting for a conservatory conversion with Fox Windows and Doors, you will also help to reduce your carbon footprint.
Excellent Security
Providing your Bubbenhall home with a secure conservatory is incredibly essential. By choosing Fox Windows and Doors for your conservatory conversion, you will be provided with a new conservatory that is stringently tested and highly secure, keeping any unwanted intruders out.
Excellent Architectural Glazing
Our extensive range of glazing options allows you to generate a bespoke conservatory conversion that offers a variety of practical benefits. Benefits include solar control, thermal insulation, noise reduction and enhanced security. As well as its modern design, your conversion will offer high levels of practicality.
Conservatory Conversion Prices in Bubbenhall
Mr and Mrs Prudhoe are pleased with their new conservatory conversion. The contemporary design and modern additions have greatly improved the aesthetic of their Bubbenhall property, giving them a conservatory they can enjoy all year round.
If you would like more information on our full range of conservatory options or have a query regarding your conservatory conversion, contact us by calling us on 01926 754 044 or fill. Alternatively, you can fill out our online contact form. A member of our team will be on hand to answer any queries you may have.
You can also use our online cost calculator to receive an estimated cost of your bespoke conservatory conversion.
Have a look at our gallery below for more images on our latest conservatory conversion project in Bubbenhall.
Click on an image to enlarge