Mr & Mrs Newman are incredibly happy with their brand new aluminium sliding doors, uPVC windows and replacement roof. The new patio doors have completely transformed the space, providing modern visuals and an incredible entrance point to their garden.
Product:
Location:
Brand:
Triple Track Sliding Doors, Casement Windows & Livinroof
Coventry
Origin, Kommerling & Ultraframe
Home Extension in Coventry
Modern Sliding Doors Installation
Mr & Mrs Newman in Conventry were after a range of double glazing to help improve the visuals and functionality of their home. We designed and installed this entire extension, including the slabbing. We even did the electrics and plumbing, a service we offer for all of our double glazed extension installations. Included within the extension were a set of Origin aluminium patio doors, Kommerling casement windows and a Livinroof.
As you can see from the images below, this new extension has provided our clients with a brand new space they can enjoy throughout the year. Before, their extension looked tired and in desperate need of an update. We have since, rebuilt and provided them with a larger and more modern style home extension that perfectly matches the existing architecture of their property. Finished in Anthracite Grey, the new Coventry double glazing provides a modern aesthetic that adds luxury appeal to the property.
The Livinroof is the perfect addition to the extension, helping to illuminate the space and let great amounts of natural light flood the space. Mr & Mrs Newman can benefit from a beautifully bright space all year long. The roof has been designed with long lasting performance in mind, meaning our clients can now benefit from a space that will provide better thermal performance, security, durability and weatherproofing.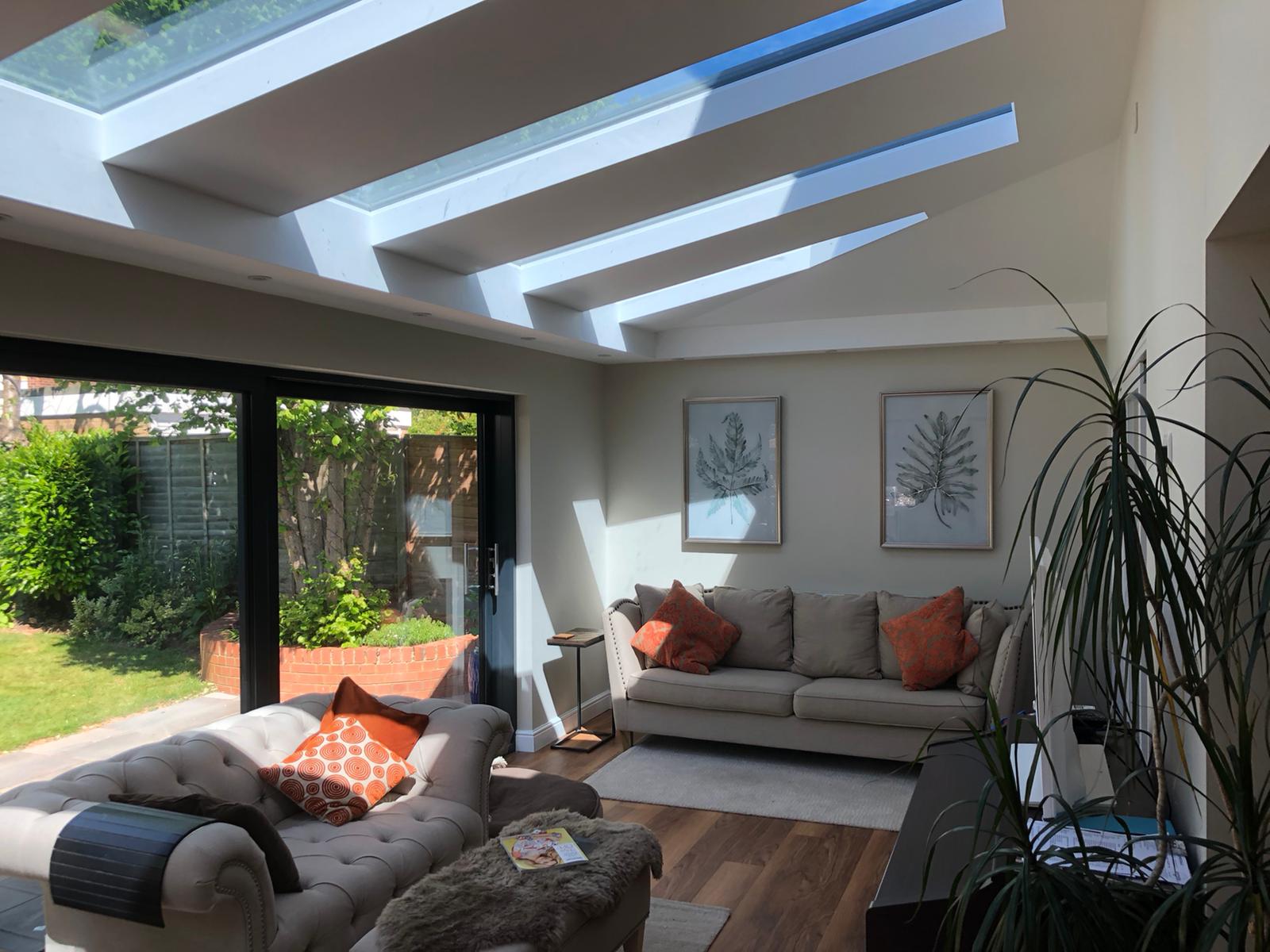 Benefits of Patio Doors
Robust Designs
Manufactured using robust and sturdy materials, the sliding patio doors will provide long lasting performance for you to enjoy. Resistant against damage from harsher weather, you won't have to worry about the frames rotting, warping, cracking or twisting out of shape.
Thermally Efficient
Our triple track sliding patio doors in Coventry are designed with thermal performance in mind. This means that you can benefit from a modern design that helps to reduce your energy consumption and retain heat in your home for longer. As a result, you'll notice a reduction in your heating bills.
Triple Track Profile
Operating on a triple track, our sliding patio doors are built for smooth operation. This means you can easily control the opening and closure of the patio doors without any hassle. In the Summer months, you can easily slide your doors open and enjoy the uninterrupted views of your Coventry garden. Not only this, but our Origin sliding doors come with a 20 year guarantee!
Unobstructed Views
With our aluminium sliding doors, you can benefit from unobstructed views of your exterior surroundings. The slim sightlines and large glazed windows allow you to make the most of the view, without the worry of a bulky frame getting in the way.
Features of uPVC Windows
Versatile Designs
With our uPVC windows, you can customise the design of the profiles to match your desired style and match the existing architecture of your property. Choose from a range of colours and finishes, and create a style that is as bold or as subtle as you desire.
High Performance
With our Kommerling casement windows, you can benefit from a range of incredible performance benefits that will greatly improve the functionality of your property. Manufactured by the industry leading brand, you can trust that the profiles have been made to ensure they exceed in standards of quality.
Enhanced Light
By investing in uPVC windows for your home, you can benefit from enhanced natural light allowance. The modern designs allow for slimmer sightlines and larger windows, helping to illuminate any space they're installed into. Not only will this provide you with more light all year round, but it will also give the illusion of a bigger space.
Home Extension & Extension Door Prices, Coventry
If you live in Coventry or anywhere else in Central England and have been inspired by our most recent sliding doors installation, then get in touch with us today. Our triple track sliding doors are competitively priced and affordable, so you can be sure to find designs that stand the test of time, and won't break the bank.
Why not try our online quote engine and you can get a bespoke price based on your exact specifications? Simply submit your details, and within minutes, you'll receive a bespoke price. It's really that simple!
If you have any additional questions, then please don't hesitate to get in touch. Our expert team can help answer any questions you may have and provide you with all the information you require.
Give us a call on 01926 754044 or send us a message via our online form for a free consultation.
Click on an image to enlarge