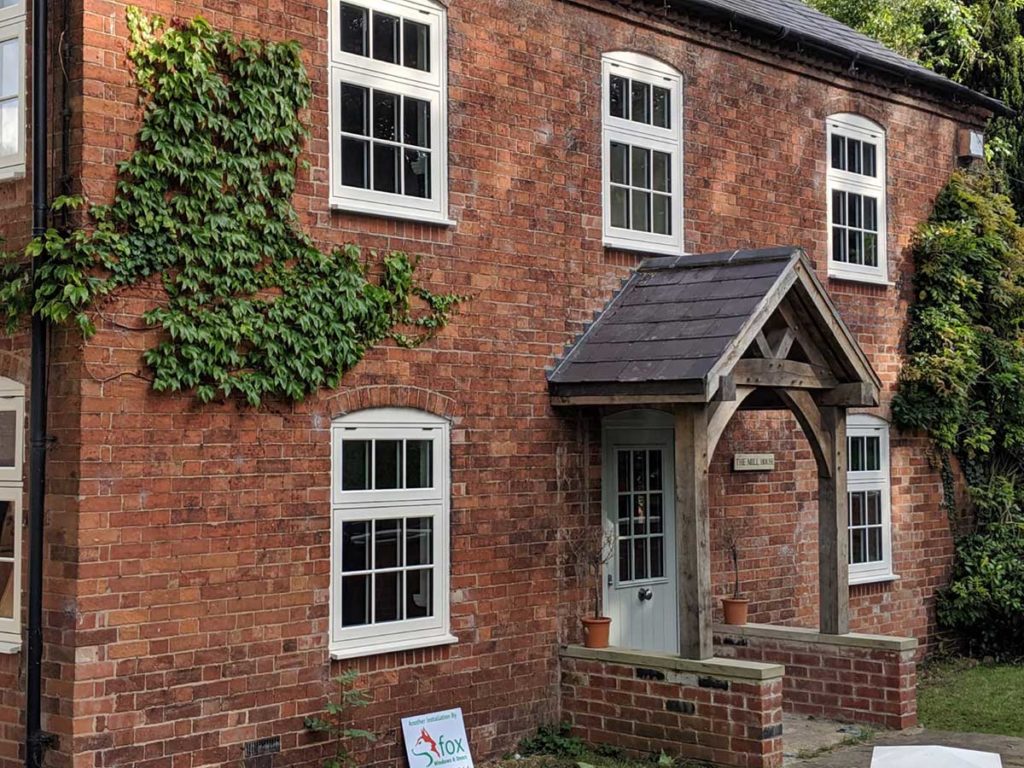 Our clients Mr & Mrs Fletcher from Coventry are incredibly happy with their brand new Residence 9 windows and composite door installation. Their replacement windows and front door perfectly match the style of their period property. We carefully listened to their ideas, and helped to completely transform their property.
Product:
Location:
Brand:
Residence 7 Windows & Solidor Composite Doors
Coventry
Residence 7 & Solidor
Replacement Windows & Doors Fitted in Coventry
Mr & Mrs Fletcher wanted to upgrade their home and benefit from a modern yet authentic appearance. They opted for Our Residence 9 windows and a Solidor composite door. Our replacement double glazing has not only given their home a stunning aesthetic, but they can benefit from enhanced performance.
We worked closely with our clients, ensuring that their double glazing designs were brought to life. Their previous softwood windows looked tired, and in need of an update. We carefully designed replacement windows to replicate their previous style, with the same transom drop and equally spaced Georgian bars.
Our clients opted for a more traditional style of entrance door, designing a replacement front door that offered an authentic appearance. This style helped to match the property, whilst also giving them a new door that offers a wealth of performance benefits.

Benefits of Residence 9 Windows
Traditional Aesthetics
Our Residence 9 replacement windows have been carefully designed to provide exceptional performance with characteristic aesthetics. Perfect for period and traditional windows, our R9 uPVC windows in Coventry will add traditional value to your home. Designed with you in mind, our Residence 9 windows can be fully customised, allowing you to generate a design that perfectly suits your style.
Thermally Efficient
Once you're brand new Residence 9 windows have been installed, your home in Coventry can benefit from exceptional thermal performance. Throughout the year, you can sit comfortably within your home, without cold air and draughts affecting the temperature. You will see a reduction in your heating bills due to less energy consumption.
High Quality Materials
Our Residence 9 uPVC windows have been manufactured using modern materials, whilst being stringently tested to ensure your home in Coventry receives double glazing that exceeds standards of quality. They have been produced to stand the test of time, allowing you to enjoy your new replacement windows for several years.

Benefits of Solidor Composite Doors
Highly Secure
Manufactured by industry leading brand, Solidor, you can be sure that a replacement composite door from us will be a secure investment. Combing a robust frame with state of the art locks, our composite doors will prevent even the most dedicated of intruders.
Contemporary Design
Perfect for any style of modern, period, traditional or new build property, a Solidor composite door will add contemporary flair to your Coventry property, whilst allowing you to benefit from the exceptional range of performance benefits.
Custom-Designed
If you have a specific look in mind for your replacement front door, then our composite doors from Solidor can be customised to suit your style and match the existing architecture of your Coventry home. Choose from a range of designs and colours, as well as glazing and hardware options.
Replacement Windows & Replacement Doors Prices in Coventry
Our clients in Coventry are incredibly pleased with the replacement Residence 9 windows and Solidor composite door. The modern design will allow them to enjoy their new double glazing for several years.
If you'd like more information on our extensive range of replacement windows and replacement doors, then get in touch with Fox Windows & Doors today. Give us a call on 01926 754 044 or send us a message via our online contact form.
We have an online quoting calculator that will give you a free, personalised quote on your next home improvement project.
Why not take a look at our gallery below, for more images on our latest project in Coventry.
Click on an image to enlarge