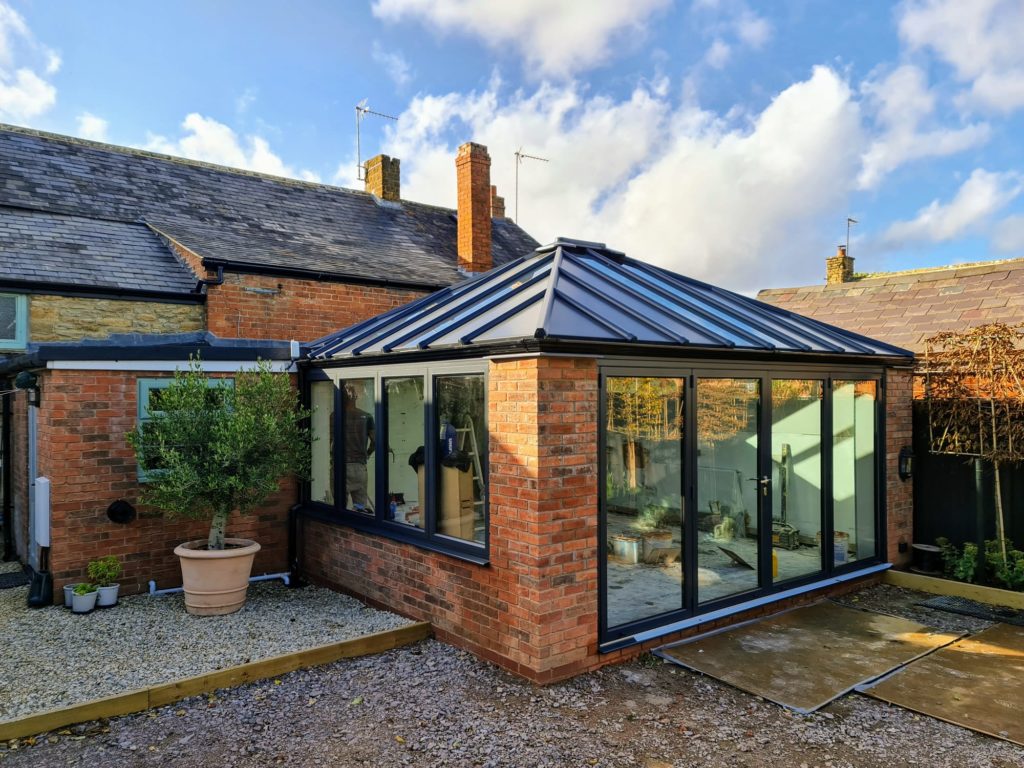 Our clients told us that they wanted their conservatory, which was used only for storage, to feel like part of the home again.
Product:
Location:
Brand:
Ultraroof/OB-49
Stoneleigh
Ultraframe + Origin
Conservatory To Orangery
These clients had a strong vision of what they wanted but weren't sure how they could have it all. They had an existing conservatory, which was used only for storage and despite how much glass it had, didn't transmit much light. They wanted a space that felt more like the rest of the home, more walls for warmth but didn't want to compromise on light transmission too much. This is where the idea of an orangery was born.
They were initially concerned it could not be done, we reassured them with two of our leading products on this build, the OB-49 bifold doors and the Ultraroof. The combination of these two put their worries to rest and helped fulfil both these goals for the new Orangery.
The final product gave them both the extension to the home they were looking for but also gave them a space to entertain and enjoy their garden on warm summer days. Their Orangery now stands proudly as the entertainment heart of the home, and we were proud to be part of that transformation.
This is an image of what the conservatory looked like before we started to transform it into an orangery. As you can see from below it is only really used for storage, it appears dark and does not feel like part of any home per se.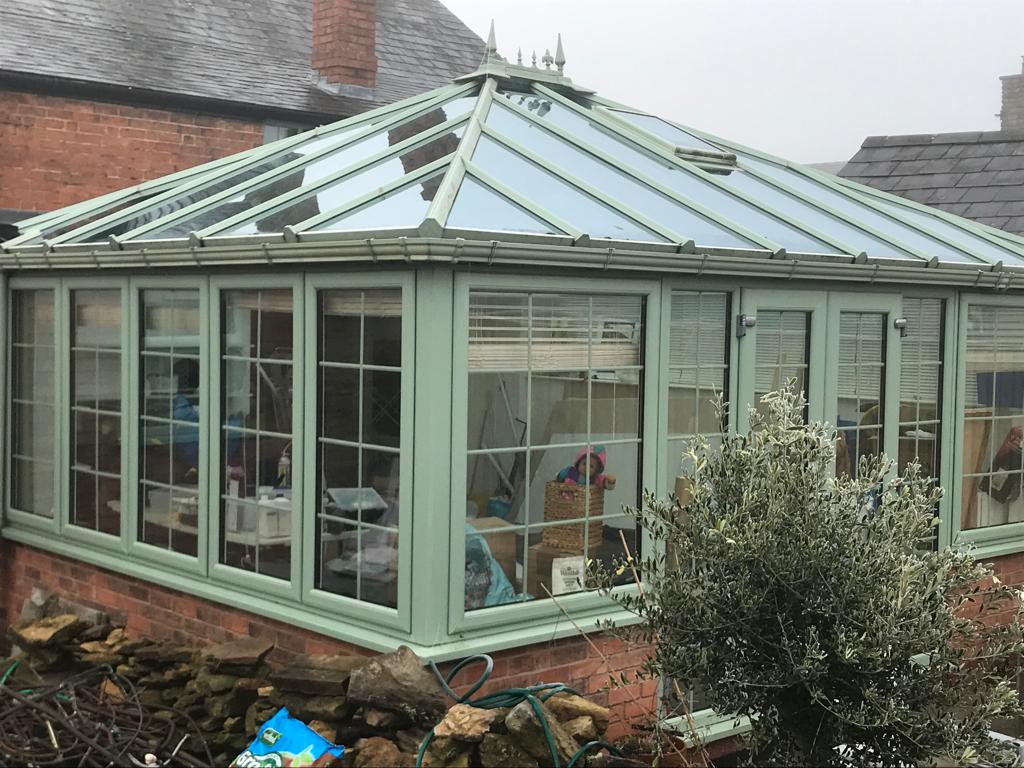 Why Make the Change?
Fantastic Light Transmission
Our orangeries are designed and built with peak thermal performance in mind. This means that our extensions have been precision engineered to keep uncomfortable temperatures outside and maintain a consistently comfortable interior temperature. Our client enjoys this to a greater degree, thanks to their roof lantern. This enables their orangery to trap the natural heat within your property, retaining it for a warm and cosy temperature. As such, homeowners like our client can enjoy a warm property and extension without the need or cost of their central heating – effectively saving money.
Fantastic Light Transmission
The use of the OB-49 bifold doors helped them to maintain the levels of light transmission they were looking for with their original brief for the orangery without compromising on thermal efficiency. This is down to the thin sightlines of this bifold profile which maximises on glazing space to allow for the most light to flood a room even when closed as possible.
Choosing bifolds also meant that the room could be opened up when required but otherwise maintain the feel that it was 'part of the home'. Finally, the aluminium bifold were selected as they did not want to concern themselves much with maintenance after this project was complete and thanks to aluminium, they need only wipe this door down with a cloth every now and then no additional treatments were required.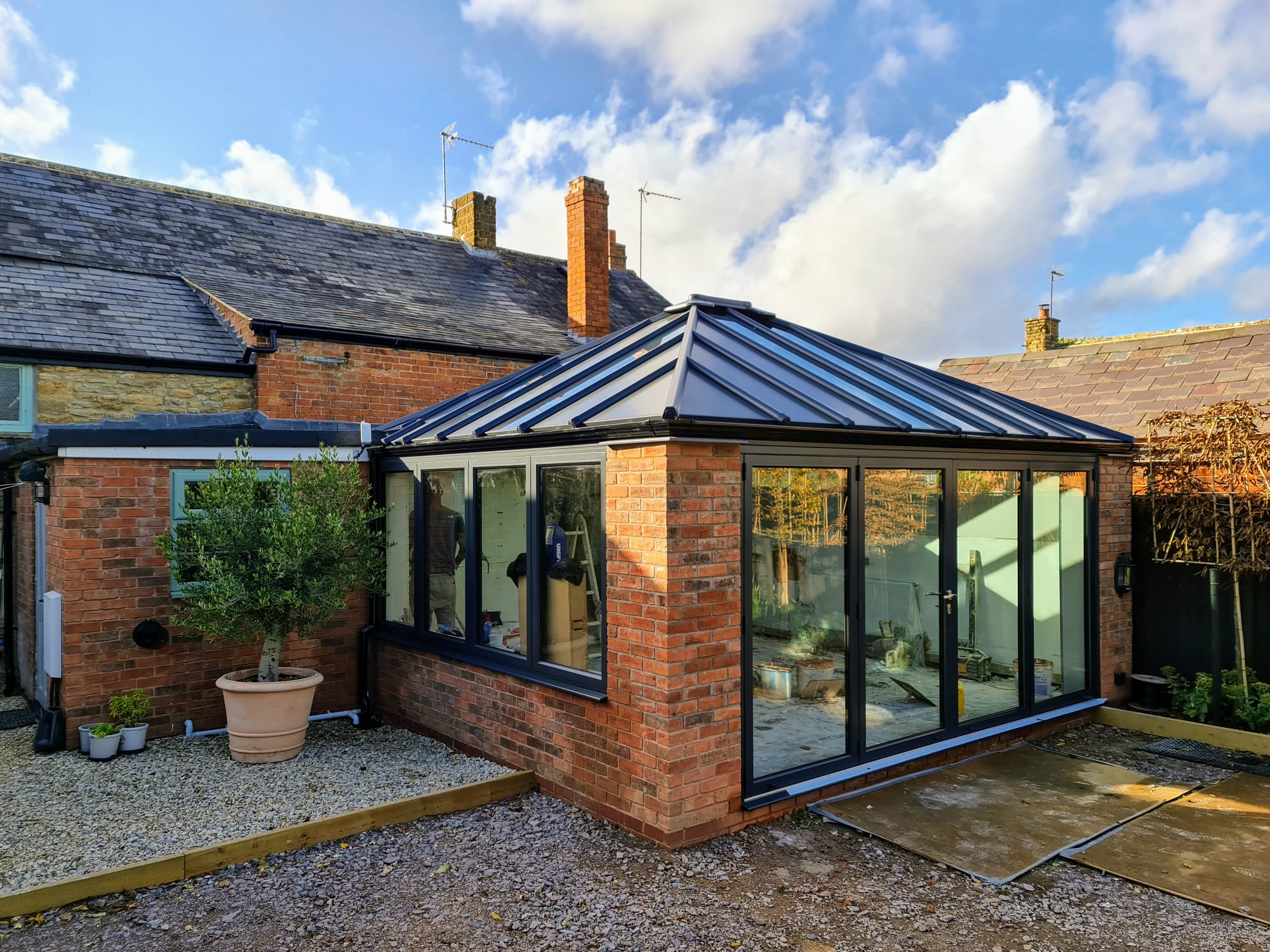 Thermally Efficient
A common issue with older conservatories is that they can lack or lose thermal performance over time. This was partly true for our clients here as they felt that their space was sometimes too hot in the summer and too cold in the winter.
Their new Ultraroof has succeeded in their eyes to not only make the room feel more thermally efficient but also actually increase its performance. Their roof now produces U-Vales as low as 0.16, the thermally insulated columns help maintain heat retention and ventilation just beneath the optional cornice helps prevent overheating.
Modern Style and Modern Performance
These clients were very happy with their final product. They felt between the thermal efficiency both the bifold door and Ultraroof provided as well as how the roof enclosed the space for some privacy, that this was a worthy addition to their home and one we were delighted to have been a part of.
Conservatory Roof Replacement Prices
If you are curious to find out more about our orangeries or you're considering replacing your old conservatory, get in touch with our team today.
Try out our free online quoting engine to receive a personalised quote based on your exact project requirements and customisation preferences. You can also contact us via our online form and a member of our team will get in touch to answer any questions you may have. Or if you would prefer to speak to one of our team members, you can call us on 01926 754044. We look forward to hearing from you.