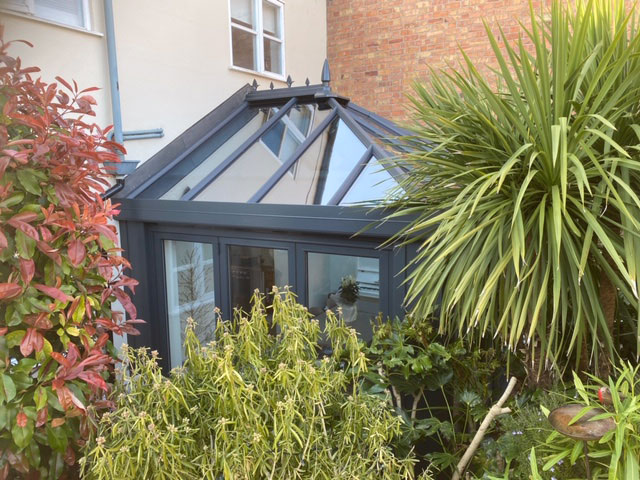 Our client is delighted with their traditional orangery installation. They are absolutely over the moon with their brand new extra space, alongside their bifold door and roof lantern that has vastly improved the function and performance of their home.
Product:
Location:
Brand:
Orangery Installation
Kibworth
Ultraframe/Origin
Traditional Orangery Installation
Our client had requested a brand new orangery that boasted a solid and durable foundation, effectively expanding their property with this seamless extension. They opted for our traditional orangery design, a classic aesthetic that sports all of the modern benefits from Ultraframe.
This fantastic build contained one of our high functioning lantern orangeries on top of the roof and an Origin bifold door. These select additions to their orangery dramatically transform their extension and property, granting unrivalled levels of security, performance and, of course, style.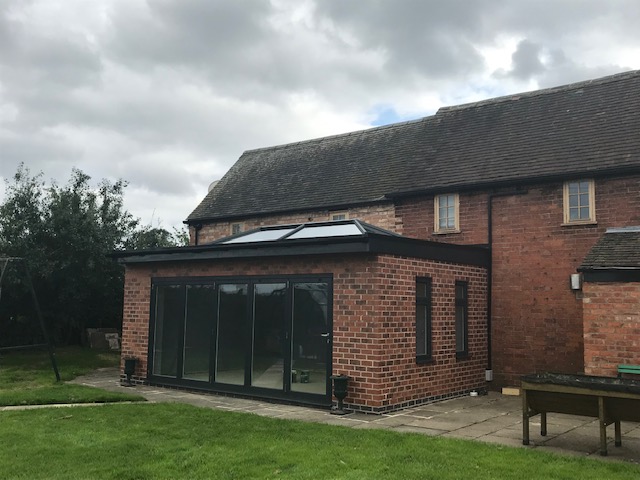 Benefits of a Traditional Orangery from Ultraframe
Incredible Thermal Proficiency
Our orangeries are designed and built with peak thermal performance in mind. This means that our extensions have been precision engineered to keep uncomfortable temperatures outside and maintaining a consistently comfortable interior temperature. Our client enjoys this to a greater degree, thanks to their roof lantern. This enables their orangery to trap the natural heat within your property, retaining it for a warm and cosy temperature. As such, homeowners like our client can enjoy a warm property and extension without the need or cost of their central heating – effectively saving money.
Multiple Customisation Options
Our orangeries are ridiculously customisable. We offer homeowners the chance to create their own bespoke extensions that they can truly call their own. Our orangeries are available in both contemporary and traditional styles, perfect for any aesthetic your property may have. As you can see, our client opted for our traditional orangery, as well as choosing the same brickwork as their home – creating a seamless extension that appears completely natural. Our valued customers can also choose from our wide range of glazing options, allowing for a greater choice in decorative options and functionality.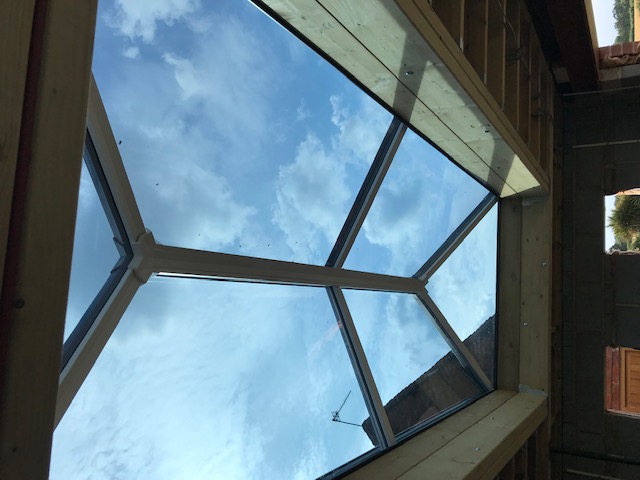 Perfect for any Home
As mentioned prior, our orangeries are extremely customisable; as such, they can become the perfect fit for any home. Our client's orangery makes an undeniably natural extension to their property, seemingly fitting like a glove, thanks to our ability to match their brickwork, style and overall aesthetic. Our client can enjoy an orangery that looks like it's been a part of their home since its inception whilst benefitting from modern day benefits that make their orangery feel brand new. This can be the case for any property, as we can help alter your brand new extension to fit your home perfectly.
Year Round Performance
Many outdated designs of conservatories, orangeries and other extensions are thermally inefficient, suffering from critical heat loss and overheating, resulting in an extremely cold and hot interior temperature depending on the outdoor weather. As such, older designs of orangeries can become often inhospitable or, at the very least, very uncomfortable to relax in. Becoming only usable during about 50% of the year. However, thanks to the previously mentioned thermal proficiency, our orangeries can be used any time of the year, whenever you please. Our client can enjoy their orangery regardless of how hot or cold it is outside, thanks to our modern design being able to reflect uncomfortable amounts of hot and cold air.
Traditional Orangery Prices
If you are curious to find out more about our orangeries, such as how much our installations cost, simply get in touch with our team today.
Try out our free online quoting engine to receive a personalised quote based on your exact project requirements and customisation preferences. Or if you would prefer to speak to one of our team members, you can call us on 01926 754044. We look forward to hearing from you.
Click on an image to enlarge